Attorney Profile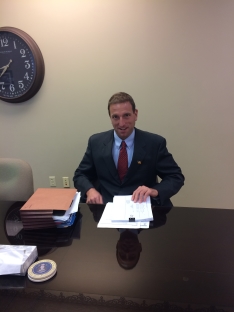 Daniel was born and raised in Tipton, Indiana. He attended college on a full-ride division one basketball scholarship to Furman University in Greenville, South Carolina. Upon graduating law school in 2003, Daniel began his law career focusing in the areas of personal injury law, worker's compensation law and social security disability.
A 15+ year veteran of practicing law, Daniel now concentrates his law practice on representing individuals who have been injured at work and individuals seeking social security disability. When hiring an attorney, it is important to hire one that will provide knowledgeable and vigorous representation. It is also important to hire an attorney that strives to achieve just compensation for your injuries. The Law Offices of Daniel L. Quigley will be committed to your case from the beginning all the way through its conclusion.
Daniel is a result-oriented individual and has a history of obtaining favorable results for his clients throughout the State of Indiana. In more than a decade of legal practice, Daniel has recovered millions of dollars on behalf of his clients. He is a member of the Indiana Trial Lawyers Association & the Indiana State Bar Association.
Daniel strongly believes that the right lawyer can make the difference in your case. When you or a loved one has suffered a work-related injury, do not hesitate to contact The Law Offices of Daniel L. Quigley. Daniel welcomes the opportunity to meet with you for a free initial consultation. Once hired, Daniel will communicate with you on a regular basis to keep you informed about all aspects of your case. He will also strive to secure just compensation for your injuries.
Daniel has offices conveniently located throughout the State of Indiana. He has represented clients from Indianapolis, Fort Wayne, Greenwood, Anderson, Seymour, Fishers, Columbus, Kokomo, Connersville, Richmond, Carmel, and many other towns and cities across the great State of Indiana.
In his free time, Daniel enjoys spending time with his family and coaching his daughters' soccer and basketball teams. He also regularly volunteers at his local church where he delivers furniture to needy families and works in the food pantry.
If you are a loved one have been injured at work, give Daniel a call at (888) 401-6115 so he can discuss your case with you.